Pontrhydyfen marks the boundary between the lower and upper Afan valley. It is sited at a narrow point in the valley where the River Pelenna joins the Afan. The settlement grew up around Oakwood as it became industrialised. As the village grew, houses were built along the south facing slope of the Pelenna valley towards Efail Fach.
The industrial history of Oakwood began in 1824 when coalmaster John Reynolds began to build ironworks on a vast scale. The work involved the construction of two blast furnaces, coke ovens and one of the most notable features of the valley, a four arch aqueduct some 33 metres high.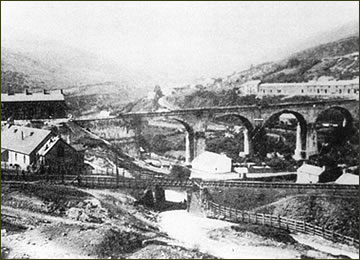 The Pontrhydyfen Aqueduct was the earliest large bridge in the valley.
A watercourse some two miles long carried water from the Afan to power the blast furnace wheel which was one of the largest in Wales. Reynolds also mined for coal and ironstone for his works and built a tramway to the coast at Aberafan. He also built some sixty houses for his workers.
However, his efforts failed to meet with success and in 1838 he sold the works to the Oakwood Coal and Iron Company which later merged with the Cwmafan Copper Works.
Today there is little evidence of former industries. Much of the valley is forested and the trees cover the scars of iron and coal mining though the routes followed by the railways remain.